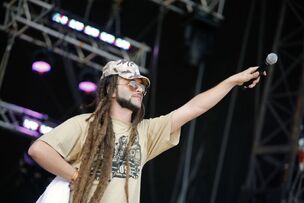 Alberto D'Ascola, better known by his stage name 'Alborosie', is an Italian-born reggae artist. He was born in Marsala, Italy, but now lives in Kingston, Jamaica. He is a multi-instrumentalist, being able to play guitar, bass, drums, and keyboard.
Music Career
Edit
Alberto's music career began in 1993, when he was 15, joining a band entitled the Reggae National Tickets, in which he went under the pseudonym 'Stena'.
In 2001, Alborosie decided to pursue a solo career. He moved to Jamaica to be closer to reggae's roots and the Rastafarian culture. He started working as a sound engineer and producer. He has also worked alongside other reggae artists like Gentleman and Ky-Mani Marley.
He released his first solo album 'Soul Pirate' in 2008. A year later, in the summer of 2009, he released his second album entitled 'Escape From Babylon'. His latest album, called '2 Times Revolution, was released in 2011. He has had various hits such as 'Kingston Town' and 'Call Up Jah'.
Pseudonym
Edit
Alborosie's name derives from a nickname he was given in his early days in Jamaica. "Borosie was what they used to call me. Let me put it like this. My early experience in Jamaica was… not nice. Borosie was a name they used to call me and it have a negative meaning. So I said "I'm gonna use this name and mash up the place turn a negative into a positive thing!". Basically my name is Albert so I add "Al" – Al-borosie. But I'm not gonna tell you what borosie mean!".
Discography
Edit
With 'Reggae National Tickets' (1993-2000):
Edit
Metropoli Selvaggia (1994) (Demo-Tape)
Squali (1996)
Un Affare Difficile (1997)
Lascia Un Po' Di Te (1998)
La Isla (1999)
Roof Club (2000)
Solo Discography (2001-Present)
Edit
Rough Tune (2007)
Soul Pirate (2008)
Escape From Babylon (2009)
Escape From Babylon To The Kingdom Of Zion (2010)
Specialist & Friends (2010)
Dub Clash (2010)
2 Times Revolution (2011)